Description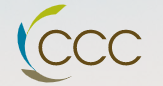 How to Apply
CCC provides an independent agronomy service to its farmer clients and has done so for over 30 years All farmers are shareholders and a Board of
Directors are responsible for running the company. Since established in 1985, it has become a leading independent agronomy company working in
Sussex, Hampshire, Kent and Dorset.
The candidate must have good interpersonal skills and an ability to work alone and also as part of a wider team. The candidate will be expected to
network with other professional organisations and companies within the industry. Good decision making and attention to detail is essential. A high
level of motivation and self-direction is required in this role.
For more information, please see attached download.