Harvest Student/Placement
Description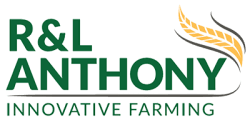 How to Apply
Harvest/Placement Positions available at R & L Anthony Ltd a progressive award winning 3000 acre mixed farm based in South Wales, growing Combinable crops, Forage Rye, Grass and Maize alongside a 700 ewe LLyen sheep flock.
We are currently looking for Harvest students to assist in all aspects of the farm.
Responsibilities include but not limited to assisting in harvesting both combinable and forage crops, cultivations and general farm and tractor work. This is a varied role which will allow the right applicants the opportunity to advance their experience.
All applicants must have a full driving license and previous experience driving modern machinery. Knowledge of GPS and a telehandler certificate is an advantage, although all necessary training will be provided.
Excellent rates of pay offered + O/T and accommodation.
To apply email your covering letter and CV to Lyn@randlanthony.co.uk