Graduate Programme – Seed to Shelf
Description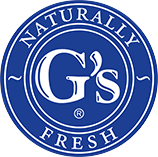 How to Apply
Are you looking to build your career within a fast-paced, innovative environment delivering healthy fresh produce to the nation's tables daily?  Then G's could just be the ideal business for you.
G's is an incredibly exciting place to work; at the forefront of modern farming and food distribution, it's fast paced, stimulating and rewarding. We are one of Europe's leading fresh produce suppliers, working with the biggest food retail brands in the UK and Europe. We employ over 9,500 employees across 3 continents in countries including UK, Spain, Poland, Czech, West Africa and USA, producing over 1.2 billion packs of healthy product a year and generating an annual turnover of over £595 million.
We are looking to recruit graduates into our 2024 Seed to Shelf Programme with an opportunity to understand every aspect of our business.
Our scheme will provide you with placements including Operations, Product Management, Planting, Planning and Harvest to fully understand our wider business with some proving occasion for international travel abroad. The placements will focus on everyday people management, supervision, and a commercial focus on continuous improvement.
We have a development culture which supports growth through training, coaching and opportunity.
For full details and to apply, click HERE