Gardener/Trainee Gardener(s)
Description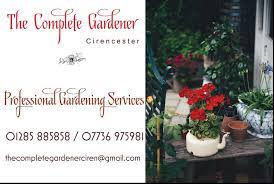 How to Apply
We are looking to recruit an apprentice gardener to work with our small team for an established gardening/landscaping company in Cirencester. We provide a bespoke gardening service to clients on a daily basis Monday to Friday, maintaining a high number of gardens in and around Cirencester.
This position would either suit an experienced gardener/landscaper looking for a permanent position, or a candidate who is interested in gardening and can offer some relevant experience - based on a temporary to possible permanent position.
Working initially under supervision, you will be given training and undertake an interesting range of gardening/landscaping duties to a high standard. There will be some interaction with our clients, therefore a personable nature is important. You must be a driver and be flexible with your availability. Part-time basis (days to discuss).
For full details including how to apply, please see download