Description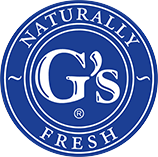 How to Apply
Now recruiting for our 2022 Graduate Scheme!
G's is an incredibly exciting place to work, at the forefront of modern farming and food distribution means it's fast-paced, stimulating, and rewarding. We work with the biggest food retail brands in the UK and Europe and want people who will do what's right for G's and our customers
The company is at its heart a family-led business with very strong values for its people, its customers and its suppliers as well as enormous respect for the environment and nature.
We are looking to recruit graduates into our 2022 scheme with opportunities within a number of our different business functions including Commercial, Food Technical, HR, Finance, Engineering, Marketing & Farming.
Each of our schemes, while focussed on a particular business area, provide opportunity to fully understand our wider business with some proving occasion for international travel/working abroad. We have a development culture which supports growth through training, coaching and opportunity. These roles will be based in the Cambridgeshire area at one of our sites, Ely (Barway), Ramsey, March or Littleport.
Candidate requirements
Either in your final year of University graduating in 2022 or have graduated in the last 2 years
Excellent communication skills
Ability and desire to work in a fast-paced environment
For full details and to apply, click HERE