World Mental Health Day falls every October 10th to promote positive mental well-being, and to raise awareness of mental health issues. This year the focus is young people and mental health in a changing world. We know that being at university can sometimes be an anxious and overwhelming time. 1 in 4 of us will have a mental health issue at some point in our lives and this blog is to help you manage your mental health whilst studying and where to seek help should you need it.
How to increase your mental well-being whilst at University
Eat regularly and healthily
It can be so hard to remember and know when to eat when your schedule is different each day and you're going out and about. If you're in your first year and are in the catered halls, this makes it a bit easier as you've pre-paid for your meals and have set times in the dining rooms.
Those who live off campus and in their second and third years, try to have set times when you'll eat on campus, or when you'll eat at home during the day. We're lucky to have the new Café with Relish that provides fresh, local and healthy food for student prices.  A change of scenery can also help you focus and prevent an afternoon slump.
What we eat can really affect our mood, when we're not feeling good we tend to reach for easy sugary fast food (even more so when we're studying and need to a pick-me up). For more information on eating healthily- see Mind's information here.
Exercise
As well as eating healthily, even the lightest/shortest exercise can improve our moods. Again this can be difficult when you've got so much on, but try and make time to take in the surroundings. Here in the Careers Office we often take a walk around campus to blow the cobwebs away, and of course admire the beautiful grounds of the campus. Give it a go- even 10 minutes can make a difference.
We also have a gym which is open early in the mornings to late evenings which is free for students. Classes are also available throughout the week, so please do get in touch with gym at gym@rau.ac.uk to see what they can offer you.
Track your progress
If you feel like you've been working on an assignment for hours and haven't achieved anything- plan and organise your workload. This can be from starting a bullet journal to writing a to-do list with short term tasks to be completed that day to longer term tasks which will need more time. Breaking tasks down can then seem more manageable when everything feels too much.  Once you've done them you can tick them off- is there anything more satisfying then ticking off your to-do list?
Alternatively, you can write down everything you have done. This can make you realise how much you've actually achieved. Updating your phone calendar can also help as you can get reminders.
Music
If being in your room/the library is getting a bit too much, and you're trying to focus on your own tasks, a blast or playlist of your favourite tunes can help boost your mood. If songs don't allow you to concentrate, then you can put on some classical music, which can reduce anxiety.
Take some deep breaths
Try taking some deep breaths. Sounds a bit silly, but taking time to focus on your breathing can really help you de-stress. There are some good YouTube videos that can help with this. Put your headphones and give yourself some time. You'll feel more refreshed and ready to go back. The app Calm was voted Apple App of the Year 2017 which is really good for taking 5 minutes or so out in-between lectures.
Switching off
Switching off can be really hard when you're balancing study, part-time work, and even family commitments etc. If you live in Ciren then think about walking or cycling to campus to take in the surroundings. If you're in the car, then listening to radio can help, or put on an audiobook or a make a playlist specifically for commuting. This can then help you compartmentalise and be ready for your lectures/coursework.
When studying at home, give yourself strict deadlines. For example no coursework after dinner, or 10pm, and try to have a free evening once a week. Again this can be hard to implement, but your mental health is important, and this can prevent feeling overwhelmed with all the different modules.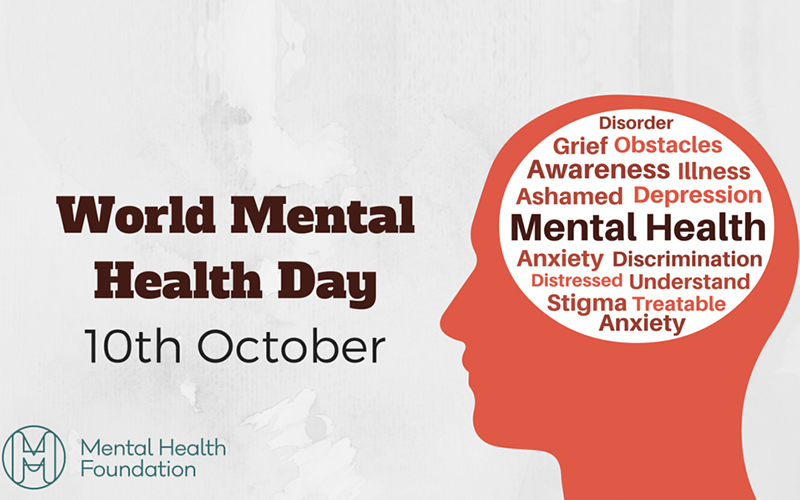 Seek help
It can be extremely hard to seek help when we're feeling low, or if we're not even sure what we are feeling. You don't need a specific reason to be feeling anxious or depressed- sometimes it just happens. Seeking help is not a weakness.
Friends and Family
Find a friend a housemate or someone who is on your course and tell them how you're feeling. Is it a particular module you're struggling with? Relationship issues? Whatever the issue, verbalising it and letting people know how you feel can allow them to look out for you and help you on your down days.
Tutors/Personal Tutors/College Nurse
Here at RAU, there's numerous people here to support you. Book an appointment with your academic tutor, or your personal tutor and let them know how you're feeling. There's also the college nurse that is available on campus too.
Well-being Team
If you don't feel like you can confide in friends of family, then please see our Well-being team on campus. They're based in Cedar Lodge and you can pop in or email them at: wellbeing@rau.ac.uk and they'll help you through your difficulties, or help you find another organisation that can.
GP
If you're finding it harder and harder to get out of bed in the mornings, and genuinely dread coming to university, and things don't seem to be improving then seek medical advice. Your Dr can diagnose a mental health condition, offer counselling, and other alternative treatments.
Please don't suffer in silence we're here to help.
More information
For more information on mental health at university see here:
https://www.nhs.uk/conditions/stress-anxiety-depression/student-mental-health/