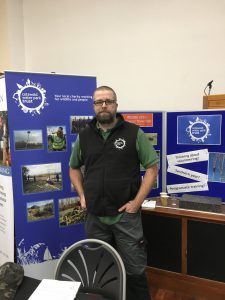 A Conversation With: Ben Welbourn (pictured) and Richard from Cotswold Water Park Trust
This week we're focusing on Cotswold Water Park Trust. The Cotswold Water Park (CWP) is an area of over 40 square miles of wetland landscape set across Wiltshire and Gloucestershire.  It encompasses over 150 lakes and the upper reaches of the River Thames and its tributaries from Ewen in the West, via Cricklade, to Lechlade in the East.  The CWP is a nationally and internationally important haven for wildlife, particularly wetland birds, and also provides huge opportunities for public access, leisure and education.
Richard represented Cotswold Water Park Trust at our Careers Fair on 22nd November and shared with us his advice for students.
Have you employed students from RAU before, and if so, how do they differ to other graduates?
Yes- we've had RAU students volunteer with us. They have some local knowledge which is helpful. They are more likely to have practical elements in their skills such as chainsaw and brushcutter experience which students from other institutions usually lack.
What you would say are the top 3 skills your company looks for?
Interest in conservation/ecology/biodiversity
Keeness to get outdoors and get work done
Care and attention to doing a job well.
How would you define "work ready" and how can student prepare for graduate work?
Certification in eg. Brushcutter/chainsaw to complement their academic skills and qualifications.
What's the biggest mistake someone can make in an interview?
Failing to research the post or organisation!
What advice would you give to recent graduates or those about to finish university?
Be alert to opportunities and grasp them.
Do not rest on your laurels graduating is the step, not the finish.
What's your top tip when preparing for an interview?
Prepare answers to frequently asked interview questions- use interview websites.
Cheesy, but do you have an inspirational quote or song that has helped you in your career to stay motivated?
Union City Blues by Blondie.
Thanks for your time Richard and Ben! Cotswold Water Park Trust provide opportunities for volunteers to work alongside our rangers and project officers in order to benefit the unique CWP landscape, and to offer valuable experience for those looking for careers in conservation, fisheries, countryside, and land management.
To find out more about CWPT, click here: http://www.waterpark.org/cwp-trust/