The year is 1979: Queen Elizabeth II had celebrated her Silver Jubilee two years previous, Margaret Thatcher has just become the first female Prime Minister, and the Royal Agriculture College welcomes three female students for the first time in its 134 year history. This International Women's Day, we're going to be focussing on and celebrating women in the Agricultural and Surveying sectors.
2018
Today here at RAU we have just over 1200 students, with a divide of 48% females to 51% males. Long gone are the days when women "attend university to find a suitable husband", our young women are going into increasingly popular fields which were previously dominated by their male counterparts.
Courses
Agriculture
For centuries women have been reduced to "farmer's wife/daughter/sister"; laws restricting women from owning land, and inheritance laws (where the son would be automatically entitled regardless of which sibling was first born) had prevented women having a voice in the agriculture sector.
However things are slowly changing, women in agriculture now make up 28% of the agricultural work force, and are taking the industry by storm redefining gender roles as they go. In 2016 the number of women running farms in the UK hit just over 25,000, which rose 10% in just five years.
We all know that agricultural workers does not automatically mean male workers, and our female students are already proving that. Our latest RAU figures show that 54% of those registered on Agriculture courses are female, compared to 49% in 2012/13. We're looking forward to seeing their careers grow and achieving management positions.
Women are gaining more and more role models in recent years as well. Minette Batters is the first woman to lead the National Farmers Union (NFU) in its 110 year history, no doubt inspiring many other girls and women in the process as the NFU represent 50,000 farmers and growers in England and Wales. The Agriculture and Horticulture Development Board (AHDB)'s CEO Jane King, has also proved that women can also work their way up to the top of other Agricultural organisations.
Read more:
https://theconversation.com/why-women-are-taking-centre-field-in-farming-73932
http://www.rabdf.co.uk/women-in-dairy/
https://www.theguardian.com/lifeandstyle/shortcuts/2017/feb/13/why-are-herds-of-women-conquering-farming
https://www.gov.uk/government/news/environment-secretary-salutes-britains-women-farmers
Real Estate
Our first female students here at the RAU were enrolled onto the First Year Diploma of Rural Estate Management, although it is not known if they went on to become members of RICS, women gaining membership to the Royal Institute of Chartered Surveyors also has an interesting history. The first woman to become a Chartered Surveyor was Irene Martin in 1922.
Today membership has crept up, but RICS are still calling out for more women. They're running an Inspire 2020 programme to encourage younger students to think about going into surveying at an early age. Currently just 24% of their student membership are women.
Here at RAU the stats are more encouraging. Currently on our Real Estate courses we have 43% female participation. Although, of course this does not mean that all will necessarily gain RICS status, but more and more in recent years are choosing surveying as a career option.
Like their agricultural counterparts, the RICS have women in the top spots. Amanda Clack, became President in 2016, and her predecessor; Louise Brooke-Smith (the first female global president) launched Inclusive Employer Quality Mark to encourage diversity and inclusion across their sectors.
Further reading.
https://www.mortgagefinancegazette.com/market-news/surveying/rics-appeals-female-level-talent-join-property-industry-18-08-2017/
http://www.rics.org/uk/news/rics150/women-in-surveying/
http://www.rics.org/uk/about-rics/responsible-business/rics-futures/discussions/women-and-the-next-generation-in-surveying/
So this International Women's Day let's celebrate, encourage and continue to inspire girls to conquer and grow in areas that were previously just for the boys!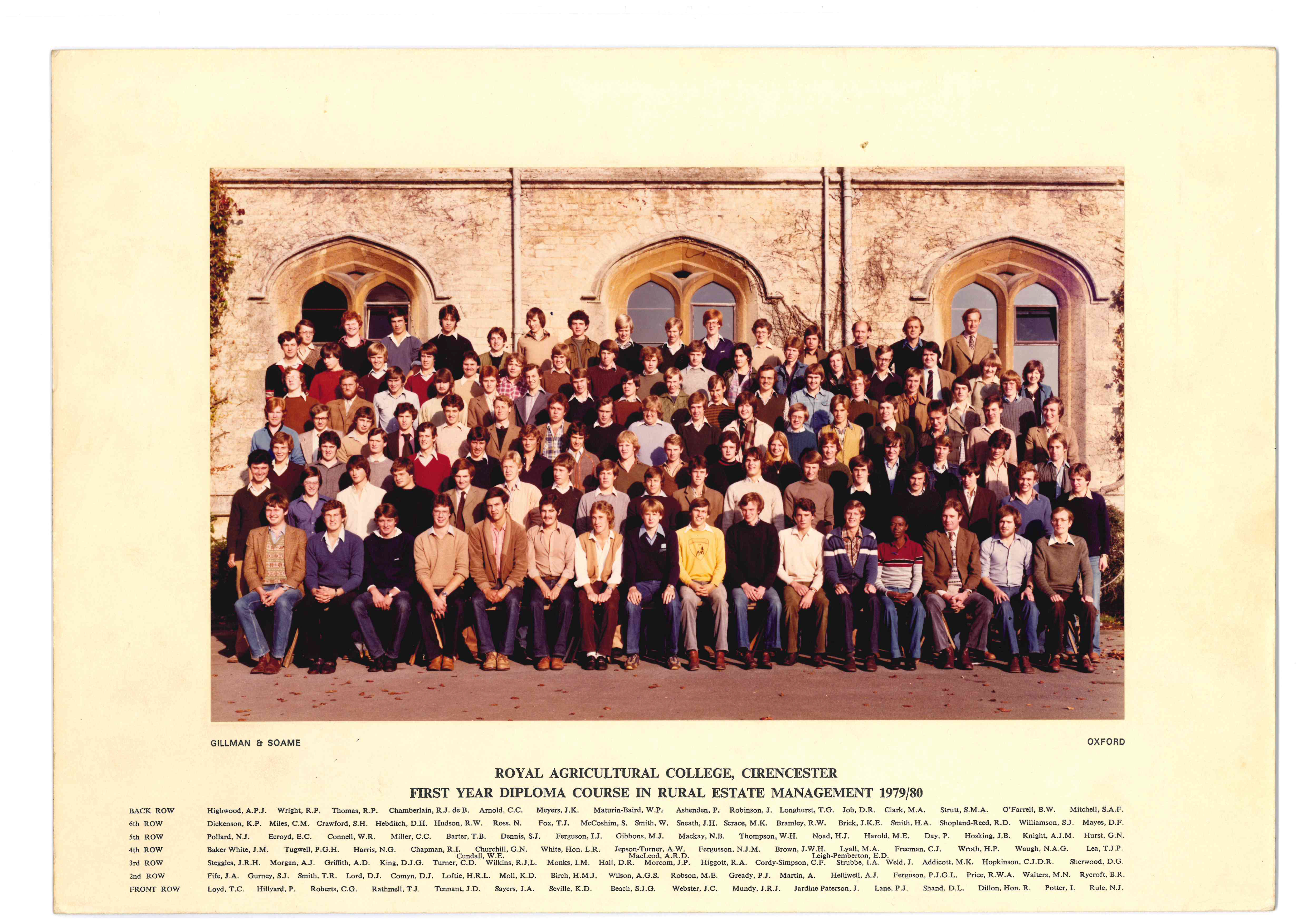 Class photo showing the first three female students to the RAU in 1979.