For the next two weeks we have a guest blogs written by Marieke Guy, Learning Technologist, and Dr Rachael Foy, Senior Lecturer from here at the RAU. Read on for their blog on digital skills and how important they are for employability purposes.
Why do we need digital skills?
Can you think of a job where you don't need any digital skills? What about a chef? Perhaps not, most chefs in large restaurants will use spreadsheets and word documents for menu planning. How about an actor? Again it's unlikely, these days social media plays a huge role in profile building and advertising.
In our future world digital skills will be needed in the vast majority of work areas. Jobs that follow on from RAU course offerings in agriculture, equine management, the environment, food supply delivery, real estate and rural land management will be no different.
Digital skills are not only needed but they will significantly boost your career and the money you go on to earn. Numerous surveys exist to demonstrate this point, for example a 2015 Huffington Post article showed that from a survey of 27 million job listings, understanding spreadsheets and word-processing software was a baseline requirement in nearly 80 percent of all middle-skill job openings.
In the Barclays Digital Development Index 2017 which analysed 88 thousand UK job adverts and assessed the digital skills and confidence of 6 thousand adults, the results were clear. As Ashok Vaswani, CEO of Barclays UK sums up: "People's level of digital prowess is fast becoming a key determinant of their earning power, yet the UK today is a patchwork of digital skills. Where you live, how old you are, what you do and your education level have an impact on your digital abilities and confidence."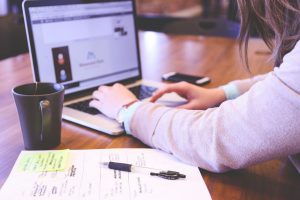 (Picture from Pixabay CC0)
What digital skills and tools are the most likely to help you in your future jobs?
No matter what year of study you are in it makes sense to start to get yourself ready for the workplace. We have compiled a top ten of areas that you need to be thinking about:
Adaptability and the ability to keep learning – Technology is constantly changing. This means that learning solutions to today's problems is no longer enough. As you graduate and move into your careers you will need to continually learn throughout your lifetime, acquiring new skills as you go to meet new challenges. Being willing to meet these challenges head on, with the confidence to acquire the necessary skills is the most important skill of all. In a recent THE article on global university employability ranking 2017 Shuvo Saha, director of the Google Digital Academy said: "The way organisations have to work these days needs to be very fluid. In that kind of world it is important to have people who are really flexible, able to create networks within their organisations and very comfortable working in virtual teams and particularly [what we call] leading beyond authority: not necessarily having to get things done because they are in a team that has a boss". Be ready to keep learning!
Spreadsheets – If you learn how to use one tool then this is it! There will always be work for people with good Excel skills. If you are interested in improving your Excel while studying at RAU then have a look at the Professional Skills Pages on Gateway where you can find lots of useful resources to help develop all sorts of skills, including Excel. BBC Bitesize provides a great introduction to spreadsheets if you want to start from the beginning. You may also want to investigate the European Computer Driving Licence (ECDL) site to try out their modules and tests and see about extra training you can do. But if you are in any doubt about how important Excel skills will be to your future career then check out this article by com. They report that certified Excel skills give a higher likelihood of promotion, and can increase earnings by an average of 12% compared to the salaries of non-certified users.
Ability to organise – The ability to organise is a definite plus – as far as a company is concerned good organisation skills equal productivity. Being organised means taking control of your projects, your tasks and of your information. You can do this by making sure you have clear processes established, a methodical approach to tasks and you stay on top of your workload. You can do this using tools like EndNote for managing your references (already embedded in Word), bookmarking tools for the web sites you use and a password manager for all those pesky passwords! Always think about your file structures for storing information and make sure you back up data.
Creativity– Digital skills may seem a little geeky but actually being creative is one of the most important digital skills of all. Allow yourself to try out new things. Why not create a video about your first year at RAU, start using drones to capture footage of the RAU campus, ask if you can submit a podcast as part of your course work, or create a blog to support your work placement? If you have an idea perhaps you can talk about it with your module leader. You may also want to talk to us (Editors note: Marieke is the Learning Technologist here at RAU and Rachael is a senior lecturer who leads on academic skills) to see if we can help support you and your module leaders.
Digital wellbeing – While it is important to make sure you eat properly and exercise to stay fit you also need to take responsibility for your own digital wellbeing. This ranges from thinking about your own online use (how much time do you really spend watching YouTube videos?) to making sure you are sensible on social media. As early as 2015 there were concerns about the potential links between the amount of time spent on social media and mental health. A study published by the University of Glasgow surveyed 467 teenagers and found social media use, particularly at night, along with emotional investment in social networking interactions led to poorer sleep quality, lower self-esteem and higher levels of anxiety. Previous studies have already established a link between low self-esteem as a teenager and depression in adults. Another study in July of the same year showed that the total amount of time spent on social media also impacted on high school students, with those spending two hours or more reporting higher levels of poor mental health, distress and even suicidal thoughts. The trick is to find the right balance – yes stay in touch with friends, families and networks through digital means but make sure you also take regular breaks, turn off screens well before you intend to sleep and ensure your other forms of interactions with people are not neglected. For help and guidance check out Student Support at RAU or Mind – the mental health charity.
The blog continues next week, so watch this space!