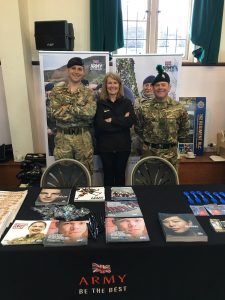 Careers as Officers and Soldiers are available in the British Army, with over 200 different roles throughout a multitude of disciplines including Electrical and Mechanical Engineering, Civil Engineers, Logistics, HR and Business Finance, Medical and Veterinary, Musical and Ceremonial and Combat.
Sian Thomas represented the Army along with Major Aaron Read and Corporal Marty Ryan at our Careers Fair on 29th November and shared with us their advice for students.
Have you employed students from RAU before? How do they differ to other graduates?
Yes we have- we find that they are more outdoorsy than most. They are usually more inclined to careers which aren't office based.
What you would say are the top 3 skills your company looks for?
Teamwork
Communication skills
Leadership
How would you define "work ready" and how can student prepare for graduate work?
Motivated, willing to learn and open minded, combined with lots of enthusiasm.
What's the biggest mistake a person can make in an interview?
Being inappropriately dressed
What advice would you give to recent graduates or those about to finish university?
Be open minded- don't stove pipe yourself to a narrow part of a large industry- don't restrict yourself!
What's your top tip when preparing for an interview?
RESEARCH- the organisation, the culture, the role.
Do you have any motivational advice for our students?
"There's a right way and an easy way. Seldom they're the same"
Thanks for your time Sian! To find out more about the Army, click here: http://www.army.mod.uk/join/