Whether the work Christmas Party is in the barn at a farm, or in a fancy hotel being paid for by the CEO, we've got the definitive list of how you should not behave during the work Yuletide festivities…
1.      Don't make a move on a colleague…
Definitely the most important. Whether you're work BFFs or not, and enjoy friendly banter/light flirting throughout the rest of the year; the work Christmas Party is NOT the place to make a move on someone you've had your eye on for a while. We can all feel a bit more confident after a drink (or three), but remember you still have to see that person the following day, and things can get awkward VERY quickly!
2.      Don't get too drunk…
Yes you're probably hilarious when you are drunk, and those dance moves are probably amazing. However, when you're starting out in a company- you want to make a good professional impression, rather than being reminded of the person who danced/started spitting bars at the Christmas party for the rest of your career. Save it for a night on the town with your mates. People remember these things. Trust us.
3.      Don't ask for a pay rise/extra hours/full time contract/extra responsibilities
Discussing your terms of employment is not appropriate for the work Christmas party. If your boss brings it up and suggests for you to do more work during the holidays, or offers you a full time job- say that you'll think about it and get back to them later. This is not the time to negotiate these terms. It's also not time to ask for extra money. If you wish to discuss that at a later date- then set up a meeting or ask to talk to them about your role in the New Year/later date. That way you can show you're serious about staying with the company and have a think about how you're going to approach the subject.
4.      Your boss is still your boss.
Regardless of how well you get on in the office- your boss is still your line manager, and therefore in a figure of authority to you. Yes- talk to them about their Christmas plans, and their families etc, but keep the conversation light and safe for work! This is not the time to share the time that one Christmas you stayed out in your hometown pub and crashed the Midnight Mass service whilst pretending you were Mary and Joseph and needed a room for the night…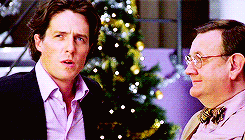 5.      Don't bad mouth the party.
Christmas parties take a lot of time and organisation to plan. If you're working for a big company it's impossible to please everyone. If you're working in a small company- it's hard to get all the staff together due to different responsibilities and life schedules. Someone in that room organised it and put the effort in- so don't say loudly how rubbish it was.
6.      Don't bad mouth your colleagues
Again outside of your office you don't know who is friends with who, so don't start bitching about so and so in marketing, or about so and so in finance, because word could get back, and again names stick. You don't want a reputation for being the office gossip!
7.      Don't talk about work
This may seem like a bit of a strange one- you are surrounded by people you work with after all! But the Christmas party is a time to network together and get to know each other more- rather than moaning or discussing deadlines. If you're new you can say how much you've enjoyed it/liked particular projects, but don't go into details etc- keep it light. Here's your chance to find out more about your colleagues- ask them about their Christmas plans/hobbies/pets/children etc. This is a good time to get to know them better, and gives you something else to discuss later on at work.
8.      Don't spend all night on your phone
Yes- take some selfies and some group shots of the team, but you don't want to record every little thing that happens at the party. No-one wants to be reminded too much of what they did when they were tipsy (as no-one's getting too drunk), and don't plaster it over social media unless you have specific permission from the person in the photos! Again- this could land you in trouble at a later date. Also- don't drunk text your boss at the end of the night- even if they did look VERY good in that suit/dress.
9.      Don't go off alone
If you're leaving early for whatever reason have the decency to tell people that you're leaving. Don't leave to go on an amazing adventure wandering around on the farm or out in the city on your own. You're not Frodo, and it won't end well. Make arrangements beforehand about how you're getting home and stick to them.
10. Enjoy it!
A Christmas party is not something that should be or feel like a chore! It's your time to talk and get to know other members of staff that you don't normally mix with, and a chance to let your hair down and enjoy it- you have earned it after all!