If you're wondering how to talk to employers and businesses at the careers fair, and you're not quite sure what the point of networking is. If you've heard about the Careers Fair Then read on for this week's blog…
What is networking?
Networking is simply connecting and talking to various people. It takes various forms and can be invaluable when looking for a job, and connecting with employers. All businesses network, and whilst you may not feel entirely comfortable with it now, the more you network, the more confident you'll feel talking to different people in a variety of settings.
What is the point?
Networking allows you to get to know many different sectors and businesses personally, rather than just reading their website. It's good to know someone on the inside of the business as well so they can tell you what it's really like, and why they enjoy working there.
You may not be offered a job straight away- but having a strong network can allow people to get in touch with you, and more realistically, for you to make personal contact directly with them if an opportunity arises. The more you know about the company, the more committed you appear to working there, and therefore more employable to that company. Companies what people who really buy in to what they're trying to do, rather than just trying to get any old job.
How to grow your network.
You might be thinking that you're only at university, you don't or won't have a network yet. But think about friends and family, friends of family etc, and you'll see that you know a lot of people already. Social media can be really good for this, especially LinkedIn. Join in their networks, and grow the people you know that way. You can always ask to connect with employers at the careers fair on LinkedIn as well. If you're not on LinkedIn, or don't fancy getting an account, you can always follow up with an email thanking them for their time.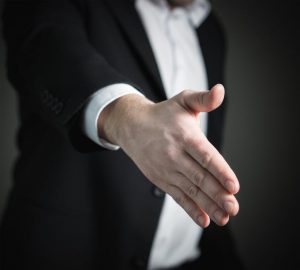 Careers Fairs
Now you know a bit more about the importance of networking, here is how you can put it into practice throughout the Careers Fairs.
What? When? Why?
There will be various employers from different sectors advertising their company and potential future roles. We have 3 Careers Fairs on throughout November:
Wednesday 1st November: Real Estate and Land Management
Wednesday 22nd November: Agriculture, Equine, and the Environment
Wednesday 29th November: Agri-industries, Business Management, and Food.
All the fairs will be in the Boutflour Hall 11am – 2pm.
It's for you to get to know what sort of employers are in your sector. Most of the companies attending have recruited RAU graduates before, so they will be familiar with your degree. They may also be advertising various graduate schemes, but also placements so you don't just have to be in your final year to attend.
You are all welcome to attend all the Careers Fairs. The more you attend, the more practice you'll have at talking to employers, and gain understanding of employers and their sectors. Read the brochures beforehand- these will be emailed and have all the details of whose attending the fair, along with information about their company, and what opportunities they
What do I say?
Not knowing what to say can make you come across nervous, and blurt out something not relevant, or even embarrassing. Below are some good conversation starters:
"Excuse me, could I ask a few questions?"
"Could you tell me a bit about your business?"
"Hi I'm studying… I'd like to find out a bit more about your role…"
"Can you tell me about the day-to-day work in your company?"
Once you've got the conversation going, you can then ask a bit more about the business. Think about what you feel is important to a career- apart from a salary. Then you ask it the attending employers. The following questions can help with this:
"What is the workplace like?"
"What are people like?"
"What are the rewards/frustrations of the job?"
"What opportunities are there for future developments or qualifications?"
"What's the best thing about your job?"
"Are there opportunities to travel?"
"How do people progress/develop through the company?"
Do's
Listen carefully to what the employers are telling you, rather than you just firing all your questions.
Engage with the employer
Take a pen and notebook with you to make notes- shows how you're organised and keen.
If you want to talk to someone- wait. And be prepared to wait. They may also watch you waiting as well, so don't look too bored or be on your phone too much.
Ask for details or a business card- you can always follow up with an email saying how it was lovely to meet them etc.
Dress professionally- suit a bit OTT, but dress a bit more smart than you would to a normal lecture.
Don't
Don't ask about anyone's salary. It's quite rude and although salary is VERY important- you shouldn't ask this until you've been offered a job.
Don't make it all about you. Yes, you're the one that's looking for a job, but listen to what they're saying.
Don't interrupt when an employer is telling you about the business.
Don't just wander round aimlessly because you've been told to attend by your lecturer.
Don't just go for the free stuff
Don't ask "what do you do?"
Don't just talk to the most senior looking person- all the people at the stand will be worth talking to, and you'll be able to get different perspective.
Good luck and enjoy the Fairs!